Learn more, improve faster and enjoy your golf more than ever before!
Whether you want to learn to play golf or just want to fix your slice, you've found the most positive and progressive golf instruction in the Lansing, Michigan area. If you're a longtime golfer seeking further improvement or a beginner looking for basic instruction on how to get started, the golf professionals at Meridian Sun Golf Club can help you learn the skills that will make your golf more enjoyable. Offering private lessons, group clinics and junior golf programs, Meridian Sun provides a variety of learning environments to suit everyone.
Junior Golf: Each summer Meridian Sun welcomes over 200 junior golfers to the club for fun filled clinics and leagues. Starting as early as age 3, our junior golfers receive group instruction on the fundamentals and etiquette of golf.
Rates: Bill Mory, PGA (Brief bio below) (Click Here to go to my website)
Adult - $100/hour
Junior - $85/hour
Coaching Series - 3 Lesson package $280, 6 Lesson package $540
Chris Mory, Director of Instruction, Golf Digest Top Teacher in Michigan (Click here for Chris' website)
Adult - $100/hour
Junior - $85/hour
Coaching Series - 3 Lesson package $280, 6 Lesson package $540
Rates: Derek Choma (Brief bio below)
Adult - $75/hour
Junior - $65/hour
Coaching Series - 3 Lesson package $210, 6 Lesson package $400
We Believe: Golf is truly the game of a lifetime, and we want you to enjoy every minute of it.
Bill has a wealth of teaching and coaching experience. He respects the challenges of the game, but believes in taking a simple approach with students. Like everything we learn in life, golf must be learned one-step at a time. So our learning programs are progressive in nature, building on each golfer's unique talents in an effort to achieve his or her goals. Golf can only be enjoyed fully if your play matches or exceeds your expectations. Our responsibility and promise is to take you to your goal.
At the center, every student receives the personal and professional attention he or she needs and deserves.
In private lessons or at group clinics or workshops, each student's abilities are assessed and a customized learning program is developed. Our instructors recommend plans for conditioning, pre-swing and in-swing fundamentals, drills, practice schedules, course management and game strategy.
Among the many options that we can offer are:
Short game workshops
Couples clinics
Parent-child clinics
Women's learn-to-golf classes and Couples Clinics
Instruction for adults and children.
Junior golf camp and daily golf activities for children during the summer.
Bill Mory, PGA Professional
BilI enjoys sharing knowledge of the game and the golf swing in group clinics or private lessons. Bill's students have gone on to successful high school, college and professional careers. He has served as both the Girls and Boys Varsity Golf Coach at Haslett High School and coached the boys team to a state championship in 2006. Bill took his teams to the state championship in every year of his coaching career and was honored as the 2006 Michigan High School and Lansing Area Golf Coach of the year. Many of Bill's students and players have been selected to the All State Golf Team and have earned collegiate golf scholarships. As a player, Bill has competed in many state and national tournaments, including playing in the US Senior Open, the PGA Tour's Buick Open and several Ben Hogan (currently Korn Ferry Tour) Tour events. His passion for the game and his vast experience are sure to help you as well.
Chris Mory Director of Instruction
Growing up in Haslett, MI I learned the game of golf from my father Bill Mory, PGA Professional and Owner of Meridian Sun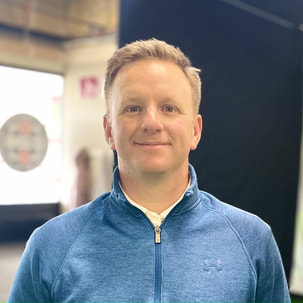 Golf Club. Around the age of ten I grew to be very passionate about the game of golf and spent most of my time at my family's golf course. I played competitive junior golf, high school golf, and eventually college golf at Michigan State University. After graduating from Michigan State, I played competitively as a professional for 2 years before starting my teaching career at the Jason Guss Golf Academy in 2015. Since then I have taught thousands of hours of golf lessons and clinics and have been voted to Golf Digest's Best Teachers by State (Michigan) twice. I continue to learn and grow as a teacher and I'm excited to come home to Meridian Sun and continue my teaching career at a facility known for growing and teaching the game.
My approach to teaching has changed and will continue to change as my career continues, as technology advances and as a golf community we continue to understand more about the game. One of the things I've come to understand through my playing and teaching career is that learning something new takes time and effort. This game will and should be both frustrating and rewarding. Struggle is part of the process to getting better and my goal as a coach is to help a student find the appropriate balance of struggle and success that will accelerate learning the fastest and unlock the joy intrinsic to this game.
Derek Choma, Assistant Professional
Derek is a Haslett native and played high school golf and basketball for the Haslett Vikings. He has a strong passion for golf and has been working as an instructor and coach for our junior golf programs for the past 4 years. A two time Meridian Sun Club Champion, Derek enjoys helping others improve their games and have more fun on the course. He continues to work with all of our youth programs and is the Lead Coach for our PGA Junior League Teams.
Click Online Store to purchase private lessons, semi-private lessons, or group instruction.