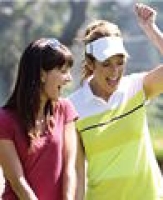 For women who are learning golf and want to enjoy learning and playing the game together in a relaxed and fun setting! 12 week league with two six week sessions. Pick a partner to play with or we will pair you up each week. Starting times begin at 6pm on Monday nights. Simple Rules. No subs needed.
Time: 6:00pm- 9:00pm Fee: $ 125 per six week session includes golf, cart, warm up basket and prizes each week.
Session 2
June 24th - Mystery Holes - 6 holes will be selected at random.
July 8th - Best Odd Holes
July 15th - Hate'm Holes - Circle three holes you hate and revert those back to par. Low Net Score.
July 22nd - Blind Bogey - Guess your score before you begin. Closest guess wins!
July 29th - 4 Player Team Scramble